End-To-End Hardware Security For DeFi & Crypto Custody
Bitpanda Custody's TrustVault platform is more than just a crypto wallet, it provides you with secure Key and Transaction management tools.
Here's how it works.
Our Architecture
Hover your mouse over the diagram for more information
Sending A Transaction Flow
This is the process for outbound transactons
Stage 1
Customer initiates a transaction instruction either in TrustVault Web, the mobile app or MetaMask. TrustVault will then request signatures from the signers on the wallet policy.
Stage 2
TrustVault will evaluate any rules that are specified on a customer's wallet. This can be various rules like max threshold rules, or that the address is in an Allow List.
Stage 3
Our automated compliance process checks the transaction using our integration with Chainalysis.
Stage 4
When the transaction instruction has a fully satisfied policy (i.e. the right number of signers have signed) it is sent to TrustVault's Hardware Security Module (HSM) where it is signed with the private key.
Stage 5
Once signed with the private key the transaction is submitted to the blockchain or, if required, simply returned to the customer.
How A Transaction Arrives
This is the process for inbound transactions
Stage 1
A third-party initiates a transaction to the customers' public wallet address.
Stage 2
The transaction is received and KYT checks are applied to the incoming funds using our Chainalysis integration.
Stage 3
Any customer notifications (iOS push or webhooks) are sent with the transaction details.
Stage 4
The assets are now secured and ready to be deployed elsewhere if wanted.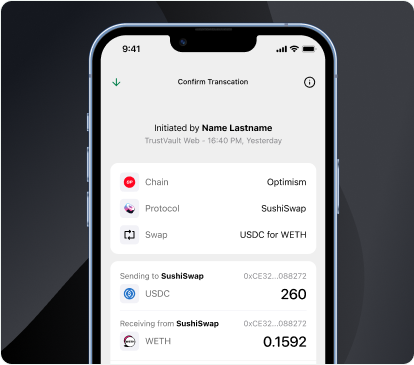 Human Readable Transactions
When sending Ethereum transactions you risk fraud, mistakes, and DApp hacks.

TrustVault's DeFinitive Transactions feature makes it safer, faster and easier to sign DeFi transactions, presenting you with a human-readable description of the transaction.
Stay in the loop
Stay up-to-date with the latest in the crypto industry and Bitpanda Custody. Be in the know, sign up today